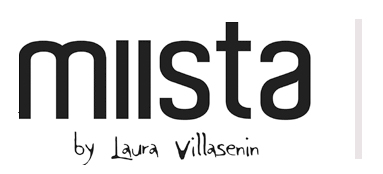 The SS13 Collection, ELECTROMANCER, draws inspiration from the natural world, referencing nebulas, collapsing stars, crystalline structures, organic textures and the effects of light. Holographic shoes and multi-colored prism heels give a dream-like feel to the collection, one full of freedom and personality, projecting an air of 'irreverent cool'.
How did Miista come to be? Did it come to you in a dream or a fortune cookie?
After spending a few years working for Aldo in Montreal I came back to London and returned to my roots by picking up where I'd left off working with another small shoe brand. I spent about two years with them but could tell things weren't going well -- only a few months after my departure they declared bankruptcy and closed their doors for good. It was then that I decided that A) I had so many ideas, my sketchbooks were bursting and I felt there was definitely an unanswered hole in the marketplace and B) I knew how to operate a business in the right way. And so Miista was born.
What's the most monumental thing to happen for Miista so far, in your opinion?
For us really it's been the amount and quality of coverage we've been getting since launching our ELECTROMANCER collection. We've been working night and day since our SS11 debut collection and the feeling of finally being recognized for the blood, sweat and tears we all pour into Miista is just beyond words. Well, and getting love from Susie Bubble...we're secretly obsessed with her.
If you were Beyonce, and Jay Z was going to buy you a designer's entire collection- what would it be?
My darling HOVA would be buying me every last piece of Mary Katrantzou's Spring 2013 collection. Her prints are such an inspiration to us and wearing her designs head to toe? To die for. Although I might cause some traffic accidents with how wild her looks can be!
What inspires your collections the most?
Measured Madness. We call it the foundation of our design process and it is something that runs through each of our collections no matter how different they may be. It is a balance between the mad and the elegant, a combination that we always strive to represent. From irreverent artwork, bizarre editorials, outspoken individuals -- they all inspire us to discover that specific brand of Miista Madness and that's something you'll always find in our designs.
Who is the Miista "girl"? Is there one?
The Miista girl is such an interesting person. She exists outside the bounds of age, location and personal style; she is any woman who appreciates irreverent fashion and wants to keep her closet full of unique designs and show stopping looks. We run a promotion each month which asks our customers to send in styling shots of them wearing their Miistas and the range of people we get is so exciting. Old young, preppy, punk -- you name it and she's sent in a photo. We love being able to cater to such a wide customer range and it's something that we always keep in mind when designing a new collection, we always make sure there's a little something for everyone!
And if you're interested in entering our monthly giveaway send your Miista styling pics to info@miista.com!
Shop Miista
Sorry, No Items Were Found.
Need help finding what your looking for? Call us at 1.800.494.1260 (M-F 7a - 5p PST) or